Commission paintings
Capture a moment just for you, commission a painting that each day that reminds you to stop and appreciate what you need . What is waiting for you in your gap in the field? Lets work together to find out!!
Bring your painting to life with symbolism. Adding flowers with special meanings can add an extra layer of emotion and beauty. Let me help you find the perfect flowers to represent what matters to you.
Commission a unique painting as a gift for some special, whether it is for a wedding, birthday or just to show you care at a difficult time, work with me to create the perfect painting that will make them feel truly appreciated. What do they need to find in their gap in the field.?
JOYFUL - honeysuckle daisy sunflower DETERMINED - thistle thyme lavender INSPIRATION - wheat poppies marigolds
I would love to help you find a moments peace, if you would like to commission your vision, please use the contact box below or email me art@emmalacon.com and I will come back to you as soon as I possibly can
If you could give me an idea, in the comment box, of the following, it would be really helpful
Colours - what are your favourite colours?
Flowers - what flowers do you like?
Size - What is the unframed size you are looking for?
Medium - Would you like the painting on a canvas or painted on paper and framed
Location - Where will the painting live?
Emotional message - Is the a particular message you would like the painting to have?
With love and sunshine Emma x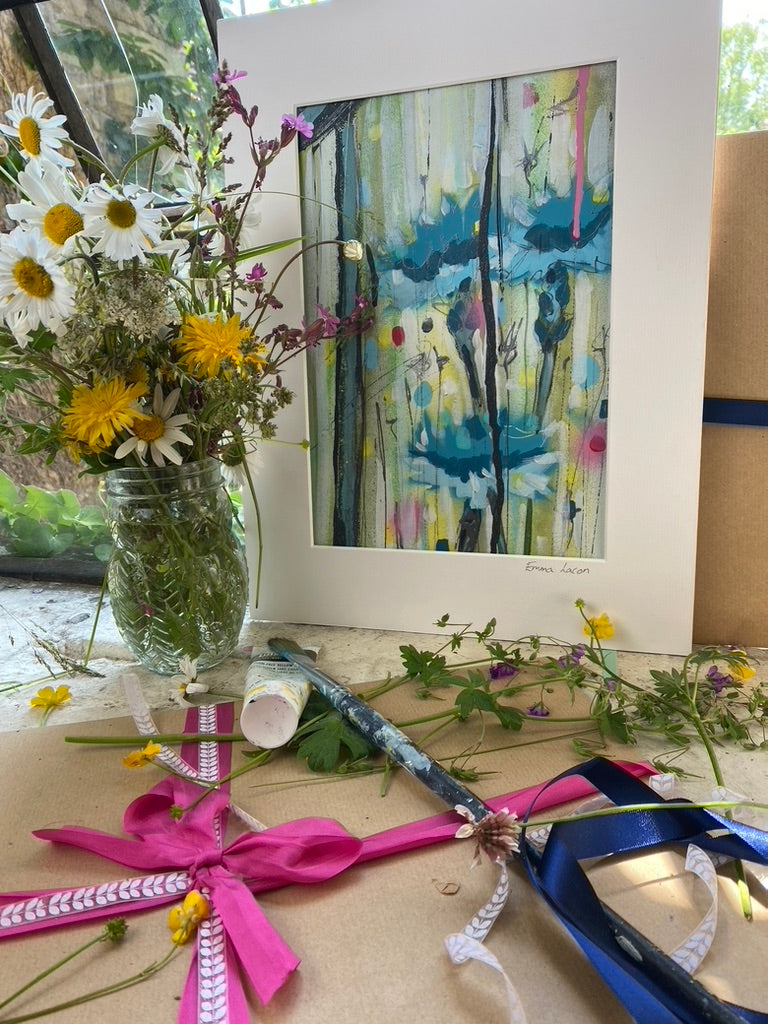 The boring stuff
Commission paintings are priced on the size of the painting, and subject to a 10% extra charge than standard paintings. a final price will be confirmed in advance
50% is payable in advance
A initial consultation, and two revisions are included in the price, any further revisions will incur a service fee
The price of the commission painting does not include shipping or framing
Times many vary for commissions to be completed but please allow at least a month
A signed agreement is required before the artwork will be started
HOWEVER I am hear to help and if you need something quicker or you have any other requests please talk to me, I like a challenge and I will try and find a solution